Your Voice Needed! Ask CARB to clean up our trains!
Rail is often portrayed as being inherently clean, but the reality is far from it. Most locomotives are powered by older, dirtier engines that are responsible for more than 30% of the emissions cuts needed, more than any other sector, including all cars and trucks on the road, to reach federal health standards for smog by 2037.
Next month, the California Air Resources Board needs to pass health-protective rules to make sure community health is not jeopardized to reign in emissions from the 12,000 locomotives operating in California. Please add your name and join us in asking CARB to pass this important regulation and check out the LA Times article below for more on this important rule making.
"These trains belch diesel fumes so pervasive they fill up the houses if windows or doors are open. The railroad tracks aren't moving, and neither can we, so all that stands between us and a healthier future is you." –Heidi Swillinger, San Pablo resident living less than 30 yards from a major rail line.
Read the full LA Times Article on the rulemaking below.
Call on the Californians to be a vocal advocate in the fight against train pollution and for advocating for everyone's right to clean air.
Following People support everyone's right to clean air
ALASDAIR COYNE, Ojai
Adriana Rizzo, Riverside
Alexander Andriatis, San Diego
Ali Awan, West Covina
Alice Nicholson
Alisha N Seaton, Los Angeles
Amber Suto, Buena Park
Amir Baum, Aliso Viejo
Angie Sheridan, Arcadia
Ann Dorsey, Northridge
Annette M Luetzow, Irvine
Anonymous , Sierra Madre
Anthony Askew, Redwood City
Barbara Elaine Taylor, Upland
Barry Wallerstein , Petaluma
Becky York, Los Angeles
Brandon Cable
Brenda Nuyen, Los Angeles
Brian Sheridan, Arcadia
C s, San Diego
Caitlin, Oakland
Camille Gilbert, Outside California
Candy Bowman, Placerville
Carlos Bello, Bakersfield
Caryn Graves
Charlene Kerchevall, Oceanside
Christian Brinser
Christine Courtois
Christine Louise Mills, Los Angeles
Christine Peterson, Los Angeles
Christy Ubellacker, Pasadena
Claire Pairaud
Colin Fiske, Arcata
Cynthia j Shallit, Sacramento
DAVID R WOOLEY, Albany
Dan Silver, Los Angeles
David Link, Elk Grove
David Matsu, Los Angeles
David Pedersen
David Tejeda
Deepti Kannapan, Redondo Beach
Diana Alvarado, Los Angeles
Douglas McCormick, Trabuco Canyon
Dr. Edward Huang, Arcadia
Elisse De Sio, San Carlos
Ellen Jacobs, Huntington Beach
Ellen Koivisto, San Francisco
Ernest Pacheco, Hayward
Eudell L Bossard, Cambria
Faye Gregory, Colton
Feng Teter
Genevieve, Los Angeles
Glenna Dowling, San Francisco
Hal Snyder, Rancho Palos Verdes
Hans Kaus, Bakersfield
Helene Minniti, Canyon Country
Holly Hall, Temecula
J. Illana Weisman, Walnut Creek
Jamie Scott, Pasadena
Janice Foss, Pinole
Je-Show Yang, Alhambra
Jennifer Thilman, Fremont
Jesse Flores, Norwalk
Jim Kerner, Outside California
Joel Winkler, Azusa
John Crahan, Los Angeles
John Marler, Claremont
Jordan Brazil, Los Angeles
Judith Hildinger , San Luis Obispo
Judy Schultz, San Francisco
Jun, Long Beach
Justin Kunert
Justin Philipps, Outside California
Karla J Devine, Manhattan Beach
Kathy Popoff , San Pedro
Katie Webster
Kelly Miller-Sanchez, Newark
Kyler Blodgett, Berkeley
Laura Hamilton, Saratoga
Laura Kranzler, Santa Barbara
Lauren Murdock, Santa Barbara
Lauren Wiskerson
Lawrence Friedrich, Simi Valley
Liliana Ulloa Santos, Outside California
Lionel Mares, Sun Valley
Lisette Munoz, San Diego
Louise Johnson, Modesto
MK Campbell, South Pasadena
Magdalena Victoria Leon-Bianchi RDA, Lake Elsinore
Maia Piccagli, San Francisco
Marc , Los Angeles
Mark J Galbraith, San Jose
Martha Camacho Rodríguez, Downey
Maryellen Redish, Palm Springs
Matt Acosta Holmes, Stockton
Melanie L Cohen, Redondo Beach
Melanie Tylke, San Diego
Michael Gardner, Long Beach
Michael McGowan
Michael Tomczyszyn, San Francisco
Michael Tomlinson, Sacramento
Michael W Evans, Los Angeles
Mike Gazza
Mike Konopa, Irvine
Nancy Lizza
Nancy Lizza, Los Angeles
Nancy McMahon, Outside California
Narayan Gopinathan, Los Angeles
Noel Park, Rancho Palos Verdes
Pati Tomsits
Paul Angevine, Fresno
Paul B Scott, San Diego
Paul Bechtel
Paul Nissler, Fremont
Peter Dorian , Fresno
Peter Kallinger, Riverside
Peter Schmale, Corte Madera
Qi Huang
R J Schwichtenberg, Tustin
Rachel Altman
Ralph J Delfino, Mckinleyville
Ralph Trujillo, Walnut
Ray Pingle, El Dorado Hills
Rita Santos-Oyama, Long Beach
Rob Seltzer, Malibu
Robert Jardine, Cupertino
Ross S. Heckmann, Arcadia
Ruben Aronin, Culver City
Rudy Promani, Palm Desert
Sam Miyamoto, Burbank
Scott Beltran , Irvine
Shannon Tom
Stacey Meinzen
Steve
Steven Appleton, Los Angeles
Susan Ciaramella, South Lake Tahoe
Susan Durbin, Glendale
TIA M TRIPLETT, Los Angeles
Tatianna jones, Sacramento
Theodore buettemeyer , Los Angeles
Therese Ryan, Palmdale
Tiki Beer, Stockton
Veronica Raymond , Temple City
Victoria Durand
Wesley Reutimann, Pasadena
William Pevec, Sacramento
Wm Briggs, Hermosa Beach
Woody Hastings, Sebastopol
Yvonne Wei, Los Angeles
Zhiqing Wang, Milpitas
bill woodbridge, Santa Barbara
carol schaffer, San Pablo
darynne jessler, Valley Village
ivette osorio, Los Angeles
joyce heyn
kent morris, Fullerton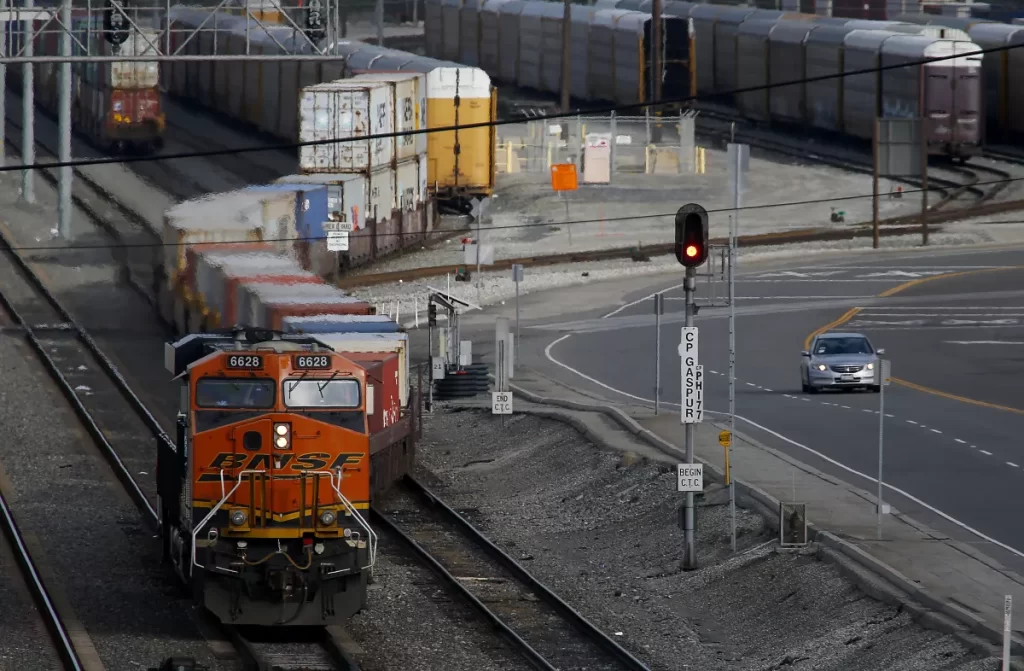 Communities near railyards, ports and other freight corridors have long been hit hard by air pollution from dirty, old locomotives. These massive, track-mounted vehicles, which use a diesel generator to power electric motors and move rail cars carrying cargo or passengers, are major polluters, responsible for a growing share of the emissions that increase cancer risk, shorten lives and worsen smog across California. Yet authorities have taken almost no action to change that.
Residents pleaded for years with state officials to make the railroads cut locomotives' health-damaging emissions but were told there was nothing California could do because of an exemption in the federal Clean Air Act.
That stance began to change few years ago. Exasperated California air quality officials took another look and determined although the state cannot impose emission standards on the manufacturers of locomotives — that's the responsibility of the U.S. Environmental Protection Agency — it does have the authority to regulate railroad operators and the type of equipment they use. The state Air Resources Board is set to vote next month on tough new rules for the roughly 12,000 locomotives operating in California. The regulations would force the rail industry to replace its oldest, dirtiest locomotives with the cleanest diesel models and eventually, with zero-emission electric or fuel cell technology.
It's about time state regulators stood up to a powerful industry that has long evaded the same health protections imposed on nearly every other sector of California's economy. Locomotives are so dirty that state regulators identified reducing their pollution as the biggest single strategy in their plan to reduce smog to federal health standards by 2037 — responsible for more than 30% of the emissions cuts needed, more than any other sector, including all cars and trucks on the road.
It's no surprise the railroads are opposed. The multibillion-dollar companies have remained almost entirely shielded from California's emissions rules on the grounds that only the federal government can tell them what to do, and the industry has signaled it intends to sue to block any state-imposed rules. At a public hearing last fall, Michael J. Rush of the Assn. of American Railroads, an industry lobbying group, warned the Air Resources Board the rules would not reduce emissions because, if they were adopted, "the inevitable result will be litigation and judicial decisions prohibiting the board from proceeding."
California regulators shouldn't be dissuaded by the rail industry's intimidation. Their top priority should be reducing the long-standing health risks for the state's most heavily polluted and economically disadvantaged communities, such as Commerce, Colton and San Bernardino, where locomotives spew diesel exhaust around the clock. Under the proposed rules, cancer risk from locomotive-generated diesel pollution in communities near railyards would decrease by over 90%. They would slash smog-forming nitrogen oxide emissions by 86% and prevent more than 3,000 early deaths from air pollution.
Over the last 25 years, state officials have reached only voluntary agreements with the two Class I railroads operating in California, BNSF Railway and Union Pacific, to clean their locomotive emissions in Southern California, but they have brought about disappointingly little improvement.
More than half of the locomotive pollution in California is generated by engines that were originally built about two decades ago or earlier and are required to meet only the outdated emissions standards from that time. Meanwhile, practically every other type of vehicle in California, including passenger automobiles and heavy-duty trucks, faces a mandate to phase out new sales of gas or diesel-fueled models until reaching 100% zero-emission over the next decade or two.
Under the proposal the state Air Resources Board would begin enforcing rules in 2024 prohibiting locomotives from idling their engines for more than 30 minutes. That same year, operators would also have to start setting aside money each year into a dedicated trust account to be used to switch to the cleanest models or to zero-emission technology. Starting in 2030, the industry would be prohibited from operating locomotives that are 23 years old or more, and all newly built models would have to be zero-emission by 2035.
The railroads argue that not only does California's proposal not pass legal muster, it's unrealistic. They have their own plans — BNSF has pledged to reduce its emissions by 30% come 2030 and Union Pacific has committed to reach net-zero emissions by 2050. The industry has been developing zero-emission electric and fuel cell locomotives, but the companies say those technologies won't be ready as quickly as California wants them. The industry has also argued locomotives are the most environmentally friendly way to transport goods, but air quality officials say California's rules have cut emissions from heavy-duty trucks so dramatically over the last decade that they are now the cleaner way to move cargo.
California still has the nation's worst air pollution and needs the certainty of a rule to push the railroads to adopt new technology faster. This is the approach California has successfully used to fight air pollution for decades, and trains should be no exception.
As regulators tackle locomotive pollution, they would do well to keep their focus on those most affected by the harm. That includes Heidi Swillinger, who wrote the air board last fall to urge adoption of the rules. She lives in a mobile home park in San Pablo less than 30 yards from a rail line where trains stall on the tracks for switching operations every evening.
"These trains belch diesel fumes so pervasive they fill up the houses if windows or doors are open," Swillinger wrote. "The railroad tracks aren't moving, and neither can we, so all that stands between us and a healthier future is you."
The last time the U.S. EPA acted to reduce locomotive pollution was in 2008, and last year the agency said it would reconsider its existing rules to ensure they don't "inappropriately limit" California's authority to improve its air quality. Rules to protect people's health are overdue and regulators shouldn't wait any longer to help communities that have suffered from years of inaction.
Orignal article: