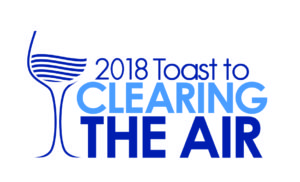 SAVE THE DATE:    March 7, 2018
Air Quality & Climate Change: What now, California?
In March of 2017, Coalition for Clean Air hosted one of our signature events: A Toast to Clearing the Air  at the Sutter Club in Sacramento.
This was another evening of lively conversations on strengthening California's climate protection policies with almost 150 guests in attendance.
During the main portion of the program CCA Policy Director Bill Magavern moderated an informative Q & A session with Mary Nichols, Chair of the California Air Resources Board, who has been at the helm of the agency since 2007, and first-term Assemblymember Eduardo Garcia, who was just appointed by Speaker Anthony Rendon as the newest member of the California Air Resources Board . Assemblymember Garcia last year teamed up with outgoing Senator Fran Pavley – a longtime clean air advocate herself – to ensure that both SB 32 and AB 197 were passed into law, bringing us one step closer to achieve CCA's mission: Clean and healthy air for all Californians.
Thank you to all the elected officials, environmental leaders, policy makers and advocates who joined us and who understand the importance of protecting our air and preventing climate change.
Curious? Checkout the pictures below or visit (and follow!) our Facebook page for many more photographs from the evening's festivities!
A Toast to Clearing the Air at the Sutter Club in Sacramento on March 8, 2017.
---
Save The Date
Join us at next year's Toast to Clearing the Air on
March 7, 2018
For more information or to discuss Sponsorship Opportunities
contact Development Director Brian Sheridan at (213) 223-6872 or brian@ccair.org 
---