Brian Sheridan, CCA's Development Director of 8+ years, is moving on to his next journey in institutional giving at the Braille Institute! Thank you for your long and determined dedication to fighting pollution in California. Read Brian's departing thoughts as he prepares for his transition.
What brought you to the Coalition for Clean Air in the first place?
In my former position with the Council for Watershed Health, I ran and moderated the Environmental Funders and Media Forum, where I got to know CCA President Dr. Joe Lyou. When his Development Director decided she would be leaving, Joe called me up to see if I might be interested in applying. I had been thinking about working for an organization that took stronger stances on policy, so the timing was perfect. The rest is history. 
What were your goals when you started? Did you achieve them? 
Yes and No.
In 2014 CCA's budget was dominated by a couple of foundations. If something happened and they changed course, we would have been in a lot of trouble. The challenge to diversify was big, but I'm proud to say that over the course of eight years, not only have we nearly doubled our budget, but not one single source dominates our funding. 
On the other hand, I really thought we'd do better opening up the wallets of the average person. The Coalition for Clean Air does such good work that benefits everyone, and it's frustrating to me that more Californians don't donate. The same could be said for helping to steer contributions to our partner organizations. Given the inexorable threat that climate change poses to humanity, the fact that only 3% of all giving goes to environmental organizations is disappointing. I'm hopeful that this will change, both for CCA and the sector in general.  
How did California Clean Air Day come about?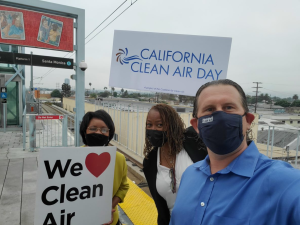 Nearly two decades ago (wow – time flies), I worked at a small historical museum that struggled to attract visitors. A volunteer at the time, John Bwarie, and myself came up with a simple but powerful idea: invite like-minded organizations to host displays at a big event for free, charge a nominal fee to the public, but give the participating organizations their own flyer so their members get in for free. Since no one wanted their members to pay, we were able to organically reach tens of thousands of people through this approach. LA Heritage Day drew 1,800 to that museum the year I left. 
Flash forward years later. John had gone on to successfully lead a Statewide campaign called the Great Shakeout, which had taught millions of people what to do in the event of an earthquake. I knew that we needed something in air quality to inspire people, so I reached out. 
California Clean Air Day started by facilitating a diverse statewide committee of experts alongside John, hiring a skilled web developer and bringing in strategic partners to help get the word out. From that facilitation came the defining thing that separates our campaign from others: the clean air pledge. We originally thought we would use the Great Shakeout Model of having everyone do the same thing at the same time on the same day, but as it turns out, giving people a choice is a powerful way to get them to take action. It's been an amazing journey watching California Clean Air Day grow ever since. 
What did you like most about working for CCA?
I learned something new every day! Fixing the air quality and climate crisis is complicated, but our staff and board of directors really know their stuff! And it's because they know their stuff so well combined with a philosophy of working alongside others to achieve goals that makes CCA so effective. From helping lead a statewide ballot initiative to working alongside communities to better understand sources of air pollution to fighting for regulatory requirements to cleaning up our transportation sector to much more, it's hard to believe how many different issues and how many hats our small but mighty staff have to wear. Yet, we do it skillfully and achieve results. It really gives you a warm fuzzy feeling when we get those big wins. 
What are you most proud of?
I've always felt that the more people who are involved in our work, the better off we'd be. California Clean Air Day, our webinar series (Clean Air Conversations) and Speed Networking were all attempts to get people to feel like they were a part of our work. During Covid, those efforts became especially important, as the desire for connection was never stronger. I'm especially proud that through those efforts I gave people the opportunity to be a part of our work and look forward to seeing how they expand in the future. 
What's next?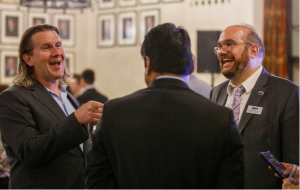 I will be taking over institutional giving for the Braille Institute. I honestly hadn't seen myself changing course after working for environmental organizations for the past 13 years, but the site visit I took there really inspired me. They are truly changing lives.
Any advice to the next person?
I don't care if you're talking to a program officer, CEO, community partner, donor, regulator or whomever, we all want to feel like our work does something positive in this world. Find ways of helping people of all types be a part of our mission. After all, what could be more positive than bringing cleaner air to our communities?
---
The Coalition for Clean Air is currently hiring for our next Development Director!
To apply, please visit our Careers Page.