Last month Los Angeles Mayor Eric Garcetti introduced his ambitious new Sustainable City pLAn. It presents a clear vision, a "roadmap for a Los Angeles that is environmentally healthy, economically prosperous, and equitable in opportunity for all." This plan does not create an environment department in the city. Instead, it aims to incorporate sustainability into each of the city's 35 departments and bureaus, with short-term (2017) and long-term (2025 and 2035) targets, metrics and milestones over the next 20 years.
The pLAn is extensive, but written in a clear and simple manner. It is organized into 14 topic chapters that fall into one of three sections: Environment, Economy and Equity. We at the Coalition for Clean Air (CCA) are very happy to see that this comprehensive plan not only includes a dedicated chapter on Air Quality, but that it acknowledges air quality as an equity issue, because, as we all know, breathing clean air should be everyone's right. Given the integrated nature of the pLAn, other chapters – such as the Environmental Justice and Carbon and Climate Leadership chapters – also include several elements important to the work that we do at CCA.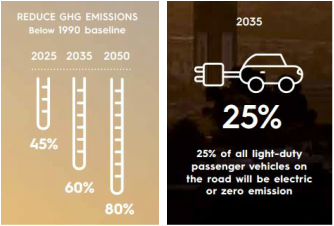 To give you a snapshot of the pLAn, it calls for the reduction of greenhouse gas emissions in LA by 60% and 80% below 1990 levels by 2035 and 2050 respectively. It also outlines the strategy to "use climate action to create jobs", to be accomplished by targeting disadvantaged communities in the city to receive investments from the state's AB 32 auction revenue, and by creating opportunities for leadership development and capacity building to enable these communities to secure this funding. These priority initiatives perfectly align with the work we are doing to implement the landmark legislation SB 535.
The pLAn also includes targets related to our work as part of the Charge Ahead California campaign: increase by 10% in 2025 and 25% in 2035 the number of electric and zero-emission (ZE) vehicles in the city. The near-term outcome to help meet this target is to install more than 1,000 publicly available electric vehicle (EV) charging stations throughout the city by 2017. Getting more EVs on our roads will lead to less tailpipe emissions, therefore helping us clean up our air.
In relation to our freight work, the pLAn also calls out for the execution of four ZE or partial zero-emission vehicle (PZEV) goods movement pilots in the Port of Los Angles by 2017. There is also an array of priority initiatives that include: the implementation of the Clean Truck Program at the port; supporting technology development for zero-emission goods movement; supporting electrification of heavy-duty rail; and reducing emissions from goods movement with a focus on low-income neighborhoods.
As the pLAn is implemented and more policies are rolled out in the months and years ahead, CCA will monitor and participate in this process to ensure that the pLAn's goals and outcomes are accomplished.