Join us for the California Air Quality Awards, our largest event of the year!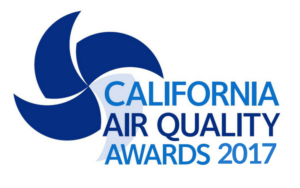 For the 26th year, the Coalition for Clean Air will be presenting our highest honors to California's clean air champions. Each year at this signature gala event we salute the individuals, organizations, and companies making outstanding contributions to California's clean air future.
On June 9, 2017, at the California Air Quality Awards luncheon, leaders from government, business and citizen advocacy again will share the stage to receive our thanks before an enthusiastic audience of hundreds of their peers.
This year's honorees include Antelope Valley Transit Authority and BYD, who will be presented with the Leadership in Government Award to acknowledge the conversion of the Antelope Valley's entire fleet to zero emission electric buses.
CR & R Environmental Services will receive the Corporate Leadership Award for constructing the CR&R anaerobic digester in Perris, California, the generation of renewable natural gas transportation fuels, and the use of those fuels in ultra-low NOx refuse trucks – all vital components of the future of solid waste collection systems that support CCA's mission of protecting public health, improving air quality, and preventing climate change.
The William + Flora Hewlett Foundation will be presented with the Clean Air Leadership Award to acknowledge the foundation's long-term unwavering support of California's clean air advocates.
With the President's nominee to lead the Environmental Protection Agency stating that he may not approve California's authority to set its own emission standards, CCA is more committed than ever to fight for public health and the right to breathe clean air for all Californians!
Join us!
2017 California Air Quality Awards
June 9, 2017
11:30 am – 2:00 pm
The Center at Cathedral Plaza, 555 West Temple Street, Los Angeles, CA 90012
Tickets: $200
Sponsorships available, please contact Development Director Brian Sheridan at 213-223-6872 or brian@ccair.org.
---
Take a look at the festivities from last year below!