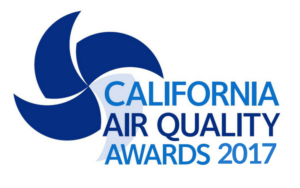 For the 26th year, the Coalition for Clean Air presented our highest honors to California's clean air champions. Each year at this signature gala event we salute the individuals, organizations, and companies who are making outstanding contributions to California's clean air future.
On June 9, 2017, at the California Air Quality Awards luncheon, leaders from government, business and citizen advocacy again shared the stage to receive our thanks before an enthusiastic audience of hundreds of their peers.
This year's honorees included Antelope Valley Transit Authority  (Leadership in Government) and BYD Motors, Inc. (Corporate Leadership Award) who were recognized for the conversion of the Antelope Valley's entire fleet to zero emission electric buses.
CR & R Environmental Services  received the Corporate Leadership Award for constructing the CR&R anaerobic digester in Perris, California, the generation of renewable natural gas transportation fuels, and the use of those fuels in ultra-low NOx refuse trucks – all vital components of the future of solid waste collection systems that support CCA's mission of protecting public health, improving air quality, and preventing climate change.
Sandra Berg received the Leadership in Government Award for her 13-year commitment to the California Air Resources Board. As the Governor's Appointee to the California Air Resources Board, she has played an instrumental role in the State's efforts to fight climate change and improve air quality.
The William + Flora Hewlett Foundation was presented with the Clean Air Leadership Award to acknowledge the foundation's long-term unwavering support of California's clean air advocates.
CCA is more committed than ever to fight for public health and the right to breathe clean air for all Californians and we want to thank all our sponsors and supporters. And of course invite you to join us again next year!
---
Please see our Facebook page for many more pictures from the event.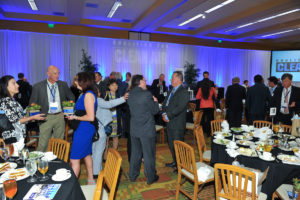 Post-event networking everywhere!
Click here for even more photos. 
---
Save The Date
Join us at next year's California Air Quality Awards on
May 18, 2018
For more information or to discuss Sponsorship Opportunities
contact Development Director Brian Sheridan at (213) 223-6872 or brian@ccair.org