The mission of the Coalition for Clean Air is to protect public health, improve air quality, and prevent climate change. We developed this analysis and position statement on building decarbonization in pursuit of achieving our mission.
To meet its greenhouse gas (GHG) reduction commitments, California will need to decarbonize. This includes buildings and appliances, which are a significant source of climate-damaging pollutants. According to the California Air Resources Board (CARB), residential and commercial buildings are responsible for approximately 25% of California's GHG emissions (including upstream and on-site emission sources, such as fuel use and refrigerant leaks.)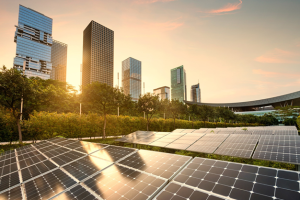 Carbon-intensive buildings and appliances also contribute to California's air quality crisis by generating smog-forming pollutants, such as oxides of nitrogen (NOx.) Tens of millions of Californians breathe air that fails to meet health-protective air quality standards. Within Southern California, residential and commercial buildings accounted for 34% of NOx emissions from stationary sources. Failure to decarbonize and reduce smog-forming pollutant emissions from the building sector would extend California's air quality challenges well into the future.
Yet, the state's approach to building decarbonization differs drastically from its strategy with transportation. Whereas CARB and the California Energy Commission (CEC) lead the state's efforts to decarbonize transportation, building decarbonization efforts are decentralized. Multiple state agencies, local governments, air districts and utilities each have significant roles in building decarbonization. These roles include updating building codes, setting emission standards, land use policies and establishing incentive programs to assist with weatherization and purchasing appliances.
Further complicating matters is the need to assist low-income and disadvantaged communities in the transition towards efficient, cleaner buildings. Residents of low-income and disadvantaged communities often only have access to older, lower-quality housing. To accommodate zero emission appliances, homes may need costly electrical panel and wiring upgrades. Coupled with the sticker price of newer appliances and energy storage units, carbon-free technology conversions can be cost-prohibitive. Further, renters are often unable to choose their appliances. As such, the state's building decarbonization strategy must emphasize equity.
To this end, we support policies that will create a zero-emissions future while also ensuring all Californians will benefit from decarbonization, including:
Developing standards, building codes and other rules and requirements to decarbonize new construction, with an emphasis on electrifying heating and cooling systems, water heaters, indoor appliances, solar power and installing electric vehicle charging and energy storage infrastructure.
Ensure climate, air quality, health and economic benefits of building decarbonization reach all Californians by providing incentives and assistance to residents of low-income and disadvantaged communities for appliances, panel upgrades wiring, weatherization and other necessary work.
Create a zero-emissions standard for appliances and equipment in sectors where electric and fuel cell alternatives are commercially available, and tighten emission standards for applications where zero-emission options are not yet viable.
Support the deployment of distributed energy generation, battery energy storage systems and fuel cells powered by renewable hydrogen as replacements for combustion-based generators, while ensuring consumer and labor protections.