Join us in Los Angeles for the California Air Quality Awards on
May 18, 2018
---
The 2018 California Air Quality Awards
For the 27th year, the Coalition for Clean Air will present our highest honors to California's clean air champions. Each year at this signature gala event we salute the individuals, organizations, and companies who are making outstanding contributions to California's clean air future.
On May 18, 2018, at the California Air Quality Awards luncheon, leaders from government, business and citizen advocacy will again share the stage to receive our thanks before an enthusiastic audience of hundreds of their peers.
This year's honorees included Assembly Speaker Anthony Rendon (Leadership in Government) and American Honda Motor Company (Corporate Leadership Award).
PUC Commissioner Martha Guzman Aceves will be presented with the Environmental Advocacy Award and CCA board member Erik Neandross of Gladstein, Neandross and Associates will be recognized with the Clean Air Leadership Award. 
CCA is more committed than ever to fight for public health and the right to breathe clean air for all Californians, so please join us and help make our goal of clean air for ALL Californians a reality!
For more information or to discuss Sponsorship Opportunities
contact Development Director Brian Sheridan at (213) 223-6872 or brian@ccair.org 
---
Curious? Take at our pictures from last year's event and visit our Facebook page for many more pictures from the 2017 event.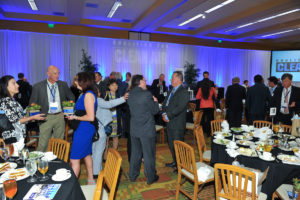 Post-event networking everywhere!
Click here for even more photos.