Save the Date

May 31, 2019
11:30am – 2:30pm
The Center at Cathedral Plaza, 555 West Temple Street, Los Angeles, CA 90012
For sponsorship opportunities, email Development Director Brian Sheridan at brian@ccair.org or call (213) 223-6872
---
The 2018 California Air Quality Awards
For the 27th year, the Coalition for Clean Air presented our highest honors to California's clean air champions. Each year at this signature gala event we salute the individuals, organizations, and companies who are making outstanding contributions to California's clean air future.
On May 18, 2018, at the California Air Quality Awards luncheon, leaders from government, business and citizen advocacy  again shared the stage to receive our thanks before an enthusiastic audience of hundreds of their peers.
It has never been more important to highlight California's leadership when it comes to good clean air policies. As such, the California Air Quality Awards honored California Assembly Speaker Anthony Rendon for his leadership in helping pass key clean air legislation (e.g., SB 32 and AB 1550) and PUC Commissioner Martha Guzman Aceves, for her work at ensuring disadvantaged communities benefit from the green economy. On the corporate front,  we wanted to recognize those who have taken a major step forward in the adoption of zero-emission technologies. Therefore, an award went to American Honda for their commitment to hydrogen fuel cell and electric vehicles and past CCA Board Chair Erik Neandross of Gladstein, Neandross & Associates for his efforts at bringing electric and clean vehicle technologies to market.
Together, our awardees have brought new clean air technologies to the forefront, protected California's air quality laws from attempts to weaken them, and ushered in a new era of climate policies centered around disadvantaged communities. We are proud to acknowledge those who fight for clean air and look forward to celebrating their successes at the California Air Quality Awards.
We also were able to offer a very special opportunity to our guests: A chance to win a dinner with Congressman Ted Lieu and Commissioner Betty Chim-Lieu and family in our raffle! Thank you to the Lieu family for their support and congratulations to our winner Joshua Goldman!
Coalition for Clean Air is more committed than ever to fight for public health and the right to breathe clean air for all Californians, so please keep supporting our efforts and help make our goal of clean air for ALL Californians a reality!
Curious? Take a look at our pictures below and visit our Facebook page for many more pictures from the 2018 event.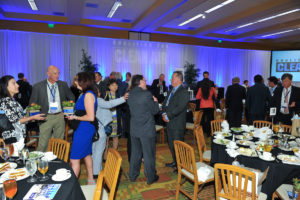 Post-event networking everywhere!
BRONZE SPONSORS
---