California Air Resources Board Chair Mary Nichols makes a fashion statement
at the annual
Toast to Clearing the Air

:
"Automakers siding with the Trump Administration are
STUCK IN REVERSE"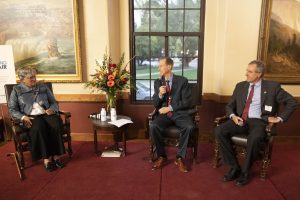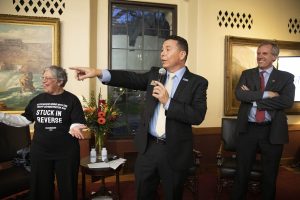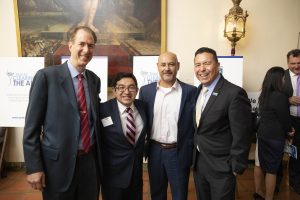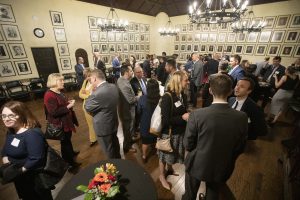 On February 26th CCA hosted another successful "Toast to Clearing the Air" reception. Our speakers this year were California Air Resources Chair Mary Nichols, who made a fashion statement by donating a t-shirt to be auctioned off to the highest bidder. She was joined by California Energy Commission Chair David Hochschild, who fills the environmental position on the five-member Commission and in the past also served as a commissioner at the San Francisco Public Utilities Commission.
More than 150 elected officials, environmental leaders, policy makers and advocates joined us to hear what they had to say and a great time was had by all!  Visit our FB page for more pictures.
---
Thank you to our Sponsors!
Platinum Sponsors
Never been to the Toast? Here is a recap from last year's event:
On February 27, 2019 we hosted another lively evening of conversations on California's air quality and climate protection policies at the Sutter Club in Sacramento. 
Assembly Speaker Anthony Rendon stopped by to welcome our guests and California Air Resources Board Chair Mary Nichols led the Toast to Clearing the Air. Newly-appointed Cal/EPA Secretary Jared Blumenfeld and California State Senator Nancy Skinner discussed the urgency of addressing air pollution issues in our state. As Secretary Blumenfeld stated: "…if we can't do it here and now, when and where can we do it?". 
As every year, our reception was an intimate gathering of California's most influential leaders in the environment and politics, including key legislators, top regulators, business leaders, and environmental advocates. Be sure to join us next year, for another interesting and thought-provoking conversation on the state of the air in California. 
---
A Toast to Clearing the Air at the Sutter Club in Sacramento on February 27, 2019