If we had to grade air pollution policies in 2017, we would probably give them a "B-". On the bright side, the legislature passed key incentives for clean transportation, tightened rules around methane, increased climate investments in disadvantaged communities, stepped up the state's commitment to advanced clean vehicles, and got serious about addressing air pollution in overburdened communities. At the same time, they made it harder to fight pollution coming from heavy-duty trucks, and failed to act on key bills to lock in our environmental rules. So, while we had some important wins, not everything is perfect.
Moving Toward Clean Air
The Coalition for Clean Air worked hard with our allies to pass key clean air laws and standards. Here are some of the key policy wins that will be instrumental to the State's efforts moving forward:
Assembly Bill (AB) 134 designates more than $900 million for cleaner engines, the most ever dedicated to these projects.
A key rule passed by the California Air Resources Board (CARB) will help California greatly curb emissions of methane – a powerful greenhouse gas that regularly escapes from oil and gas operations, and ARB also adopted a plan for further controls on methane and other climate "super-pollutants." The Air Resources Board set new stronger goals for reducing pollution from the freight sector.
AB 739 will require 15 percent of specified heavy-duty vehicles purchased by the Department of General Services, other state agencies be zero-emission by 2025, and at least 30 percent of those vehicles purchased be zero-emission by 2030. CARB committed to putting over 4 million zero-emission cars on California's roads by 2030.
New laws will help place charging stations in schools, parks and beaches while prioritizing programs in disadvantaged communities, extend and increase rebates for low-moderate income households when purchasing electric vehicles, and expand incentive programs that encourage residents to retire their older cars and replace them with cleaner ones.
Others bills create aggressive targets for state fleet of zero emission vehicles and offer additional incentives for purchasing clean vehicles.
Thanks to a collaboration of local environmental justice organizations, CARB and San Joquin Valley Air Pollution Control District (SJVAPCD), the San Joaquin Valley finally has a path forward that could bring clean air to the Valley.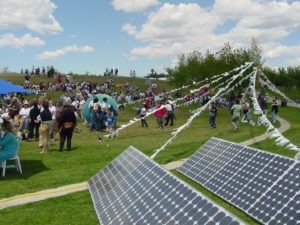 "As we near the end of another unhealthy smog season, Californians are searching for solutions to air pollution. A rapid shift to zero-emission vehicles is essential to delivering clean air, and the package of legislation signed by Governor Brown will help speed that transition by making both electric vehicles and charging stations more accessible."
Bill Magavern
Policy Director with Coalition for Clean Air
Defending Clean Air from Attacks
It is important to remember that sometimes you have to protect what you have. Attempts to undermine California's clean air laws included:
Senate Bill (SB) 749 would have gutted CEQA under the guise of speeding up Olympic Projects and the Clippers stadium.
The petroleum industry once again had its eyes set on ending the Low Carbon Fuel Standard, which thankfully remained in the most recent cap-and-trade bill despite industry pushback.
Climate Change Policies Are Complicated
Though some great pieces of legislation were passed, so did bills which we had concerns about, including:
AB 398, which will keep cap and trade operating until 2030 rather than letting it expire in 2020, passed in July. While it is obviously important to continue to try to lower California's overall carbon footprint, emissions trading allows big polluters to buy their way out of reducing emissions, which does not drive that de-carbonization process as well as direct regulation would. We will continue to work with policy-makers to try to improve the program.
In Greater Los Angeles, a plan put forth by the South Coast Air Quality Management District sets good targets for getting to clean air. However, it relies so much on incentives (over $1 billion needed) that it seems unlikely to succeed.
AB 17, a bipartisan effort CCA supported that would have created a state-level program to provide funds for reduced-fare or free transit passes for California's student body, was vetoed by Governor Brown. In his veto message, Governor Brown indicated he wanted to look further into how local programs operate, leaving the door open for another attempt in 2018.
Not all is golden in the Golden State
Some of the legislation that will be a challenge to our efforts moving forward:
Although SB 1 will make major improvements to the transportation system in California, it also has an unacceptable loophole that will keep the most polluting heavy-duty trucks on our roads for as long as 18 years.
ACA-1 is a ballot measure that will appear on the June, 2018 ballot. It would require a two-thirds majority to approve cap-and-trade expenditures in 2024, which would create political obstacles and delay investments in disadvantaged communities.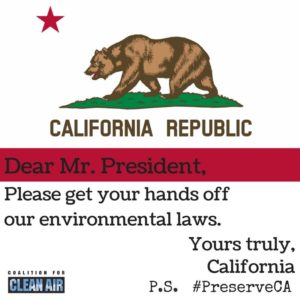 Looking forward
The San Pedro Bay Ports Clean Air Action Plan Final Document is expected to be finalized in November. As happy as we are to see an ambitious goal of zero emissions by 2035, the interim steps in the draft plan are weak.
SB 100, which would set an ambitious target of 100% renewable energy by 2045, will be considered after the legislative recess.
SB 49, which would hold California's environmental laws to the same level as under the Obama administration, remains on the Assembly floor and will get a second chance at passage next year.
As Caltrans considers how to deal with continued growth on the I-710 Freeway, it can still become a shining example of clean-logistics.
We all have to participate in smog check…or do we? For too long, heavy duty trucks have been exempt from one of the most successful clean air programs in California. It's time to put a stop to that.
We continue to seek improvements to the San Joaquin Valley Air Pollution Control District (SJVAPCD) PM plan, including tighter standards for agricultural equipment, commercial cooking, and burning in the Valley, as well as for a greater regulation and incentives to reduce mobile source emissions.
The mission of the Coalition for Clean Air is to protect public health, improve air quality and prevent climate change. While the strategies used by polluters may be effective, they are not unstoppable. We work in boardrooms, at the capitol and in the halls of justice to make sure your voice is heard.
Thank you for helping us in our fight for clean air.