Where California leads the way, others follow. That was the message at our annual "Toast to Clearing the Air" event in Sacramento last Wednesday. 
Over 120 of California's government, business and environmental leaders got the message from a dynamic panel that included: Fran Pavley, Chair, Senate Natural Resources & Water Committee; Das Williams, Chair, Assembly Natural Resources Committee; John Gioia, Contra Costa County Supervisor and member  of both the Air Resources Board and the Bay Area Air Quality Management District; and Dr. Joseph Lyou, South Coast Air Quality Management District board member and President & CEO of Coalition for Clean Air.
Governor Jerry Brown's challenge to get 50% of our State's energy from renewable sources by 2030 provided plenty of opportunity to look back at what we've been able to achieve with our renewable portfolio standard. Veteran Senator Pavley pointed out that many said it would be "impossible" to get to 33% renewable sources by 2020, yet we are on a trajectory to meet that target ahead of time.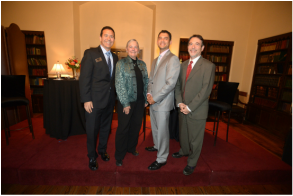 Indeed, California can't tackle climate change alone, but with an economy larger than that of most countries, we can be incredibly influential. Assemblymember Williams pointed out that our policies asking companies to make their products more sustainable have had a domino effect. Many companies responded to our state's appliance efficiency standards by effectively improving their entire product lines. Few companies, it seems, want to create one product just for California and an entirely different product for other states. 
We want to thank our sponsors for making the event a success: Southern California Edison, PG&E, Southern California Gas Company, Re-Think Methane, Valley CAN, BYD, Bay Area Air Quality Management DIstrict, Kaiser Permanente, Blue Shield of California, Nature Conservancy, California Strategies, Sacramento Area Air Quality Management District, ICCT, Consumer Attorneys, Clean Tech Advocates, and Cal ETC. We also want to thank our attendees, board members and staff for making "A Toast to Clearing the Air" another memorable event.