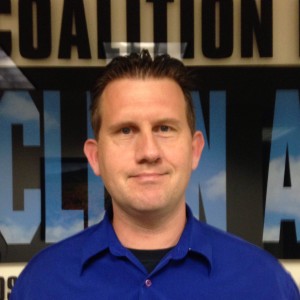 From the Desk of the Development Director
When Hewlett Foundation President Larry Kramer called on philanthropy to do more on climate, it also marked a change in its own strategy. Indeed, philanthropy excels at assessing the big picture and responding to society's most urgent needs by strategically adjusting their priorities. For most nonprofit organizations, a revisiting of priorities happens more gradually but with much the same intent.
This was certainly the case for the Coalition for Clean Air.
Founded in 1971, we have historically achieved our mission of protecting public health, improving air quality and preventing climate change through policy advocacy.
From creating the idea for California's original Smog Check program in 1981 to ensuring the first national ban on the toxic dry cleaning chemical "perc" to helping pass legislation to put 1 million electric vehicles on California's roads by 2025, CCA has paved the way for socially and environmentally responsible air policy nationally and worldwide. And we continue to push for effective policies, such as SB 210, which if passed will create a smog check program for heavy duty trucks for the first time, helping to take the equivalent emissions of 200,000 trucks off California's roads. This is still and will always be our primary strategy.
Beginning in 2015, however, we noticed more and more research reports emerge on the impact consumers have on air pollution, climate, and public health.
Both compelled to respond to and encouraged by changes in technologies that made air quality monitoring much more accessible, we started taking incremental steps to add education (collectively called CLEAR or "Community Learning Enhances Air Resources") to our portfolio of strategies to help achieve our mission. In communities disproportionately burdened by air pollution, our new education programs have provided a way to show in a very real sense how air quality impacts individual health and gives them a new tool to do something about it. To date, CLEAR has educated more than 1,000 students and we've help deploy almost 200 monitors to help communities see air pollution in a new way.
Our most recent strategy – California Clean Air Day – is being undertaken in response to our belief that even as overall awareness of climate change has risen, it has not had a corresponding impact on knowledge of air pollution. In a state with the worst air quality in the country, this is simply unacceptable—especially when many of the same actions that help lower climate emissions have the important co-benefit of improving air quality locally.
We think the answer to this dilemma is in the power of collective action.
California Clean Air Day borrows from campaigns in other sectors like the Great Shakeout. By working with large employers, we can activate large swaths of the population to take action to reduce their environmental footprint through a "Clean Air Pledge," simple actions that could collectively have a big impact. On October 3, 2018 we implemented the first California Clean Air Day. The result – 100,000+ individuals and more than 160 organizational participated. Although we focused on simple actions, we were buoyed up to see both individuals and corporations commit to making significant lifelong investments in things like electric cars and buses.
Moving into the final month of our 2019 campaign, we've set an ambitious goal to have 1 million participants statewide participate. Led by some impressive regional committees from diverse groups of stakeholders, we are confident that we will reach our goal.
Both California Clean Air Day and CLEAR are meant to compliment our advocacy work.
There is always a policy component. To use just two examples, our education program provides high school and middle school students with the opportunity to present their air quality research findings directly to policymakers and the California Clean Air Day "Mayors Council" provides an opportunity to build relationships with those who can be extremely helpful with legislation at the local level. These might be light touches, but they are extremely important in crossing regional, cultural, and party lines.
Our primary strategy, of course, continues to be policy advocacy. We are excited to report that SB 210 is close to moving its way to the Governor's desk. If it is signed, this legislation will create a smog check program for heavy duty trucks. This is a critical next step for getting the worst polluters off the road AND an additional incentive to get drivers into zero- and near-zero emission vehicles. With diesel controlling 97 percent of that market, every tool we have to get people out of diesel trucks is an important step forward.
We can create countless charts to track our impact, but at the end of the day air pollution kills more people in California than homicides or car crashes.
That is a public health crisis. Through climate change in the mix and its clear that the time for action is now. To be successful, we will need all of these strategies we have to push back.
We invite you to sign up to take part in our latest campaign and use California Clean Air Day as an opportunity to advance your own work.
Thank you to the funders who making it possible for us to employee these strategies as we pursue our mission to improve air quality, protect public health, and prevent climate change.
Questions? Contact Development Director Brian Sheridan at (213) 223-6872 or brian@ccair.org.
Powerful Examples of Our Education Programs From Social Media
This is your state on fireworks.

Air quality levels were typical for most of July 4th, but watch for the explosion of air pollution right around 9pm. pic.twitter.com/DTxFAteXEN

— Coalition for Clean Air (@CleanairCA) July 5, 2019
In a tweet that went viral, air quality monitors proved to be an effective way to show how fireworks affected public health a very real way.