Everyone knows that Los Angeles has a car problem. We drive too far, and too often. Some people say that there is a car culture here. It's no surprise then that Southern California has some of the worst air quality in the country. While cars get a lot of the attention, one of the major sources of pollution usually goes unnoticed – the massive container and tanker ships that come in and out of our ports. The California Air Resources Board is proposing a regulation to confront the problem.
The Port of Los Angeles is the busiest container port in the United States. The Port of Long Beach, which sits directly beside its neighbor, is the second busiest. These facilities attract thousands of diesel trucks and heavy equipment. There is a pollution crisis in the communities living near these facilities.
If we examine emissions from the combined ports, we can see that container ships, known as Ocean Going Vessels (OGVs), are the leading contributors to all emission types except for CO2 and equivalent greenhouse gases. Ships are the primary emitter of Diesel Particulate Matter, NOx, and SOx.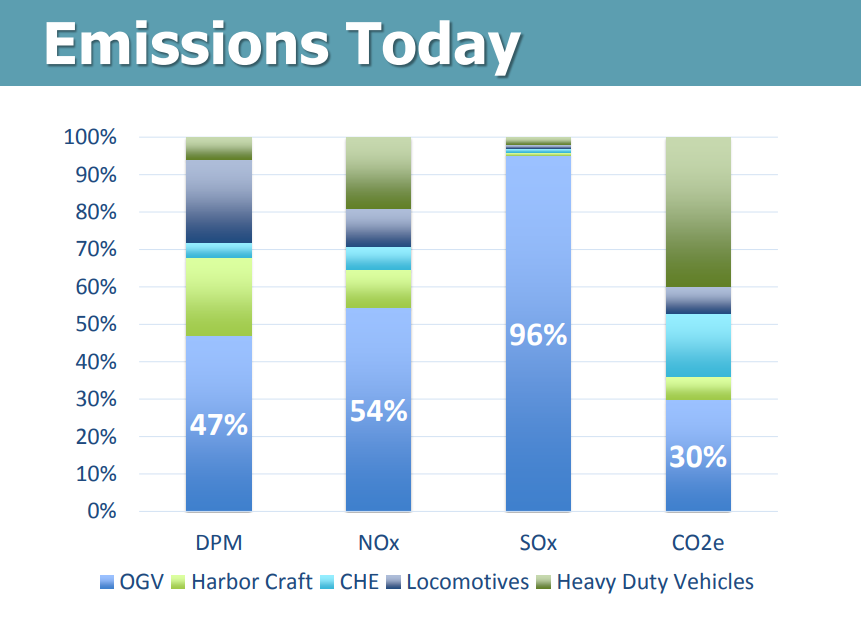 Unfortunately ship engines cannot be regulated at the state level. The federal government is responsible for those rules. At an even higher level, the International Maritime Organization, within the United Nations, is responsible for most worldwide ship rules.
But there is hope: a concept known as 'shore power', that allows ships to use the electrical grid for power while at the port. Typically, ships continue to run their engines or boilers while they are at berth, burning some of the dirtiest fuel. Shore power provides an alternative to running those engines. It allows a ship to get power from the California electrical grid by essentially 'plugging in' to an industrial electrical outlet.
As of 2017, CARB requires that 70% of any fleet's visits to the ports must utilize shore power.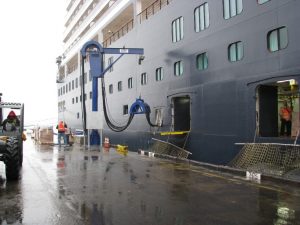 Shore power is a less expensive alternative to retrofitting engines, and has many of the benefits. That's why the California Air Resources Board is pushing an ambitious proposal that would require 100% of the ships visiting California's largest ports to use shore power or an alternative by 2031.
For the first time, the regulation would also apply to oil tankers, meaning new technology will have to be built to accommodate their specific boilers & engines.
The pollution impact from large ships is sometimes overlooked because we don't run into them in our daily lives like cars and trucks. But our growing dependence on imports is hard to ignore. The proliferation of 'two-day shipping', and on-demand delivery means larger ships must come into our ports more often in order to feed our appetite for goods.
The freight sector will continue to expand, but it's important that we push substantive reforms that will protect the health of Californians living near our largest ports. CARB will vote on the proposed regulation late next year.