"Inequality is a manufactured crisis" – Dr. Mijin Cha at the 2018 CCEC Convening
When you think of climate change, it's natural to think of melting glaciers. Perhaps you also think of intensifying disasters like droughts, wildfires and hurricanes. Certainly, these effects of climate change have real consequences for our communities, California and beyond. However, what's often lost in today's debate is climate change's impacts on our most environmentally-burdened, low-income communities.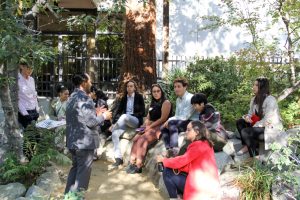 Just as low income communities and communities of color experience disproportionate levels of pollution, these same communities are particularly vulnerable to climate change. To put it bluntly, lower-income residents are more likely to live in dilapidated and toxic housing stock, have little to no access to parks, recreational and green space and have substandard or far-flung resources. Under the best conditions, such places pose significant challenges for residents. Add on increasingly extreme weather events like exceptional heatwaves or precipitation deluges, the urban heat island effect, lack of shade or weatherization and toxic air emissions, and these communities can quickly become unlivable.  
This is where CCEC steps in
It's this daily reality that fuels the work of the California Climate Equity Coalition (CCEC), a longstanding partnership between Asian Pacific Environmental Network, the Greenlining Institute, Public Advocates, Strategic Concepts in Organizing & Policy Education (SCOPE) and the Coalition for Clean Air. CCEC's goal is to work with the California state government to ensure that a substantial portion of revenues from the state's cap-and-trade program are invested in disadvantaged communities. Not only do these investments have to reduce greenhouse gas emissions, but they also need to create additional health, economic and other benefits for the community. While this effort goes back to at least 2009, CCEC was instrumental in SB 535's (de León) passage in 2012, and subsequently AB 1550's (Gomez) in 2016.  
However, CCEC's work isn't limited to the State Capitol and the agencies implementing California's climate policies. In addition to our advocacy work, CCEC also hosts annual Convenings. These Convenings are intended to create a space for community members, advocates, state agencies and elected officials to share experiences, ideas and needs with the purpose of connecting communities to Climate Investments and affecting California's policy. This year's Convening, which took place in Los Angeles on November 14th and had over 100 participants, was focused on how Climate Investments can create a "Just Transition".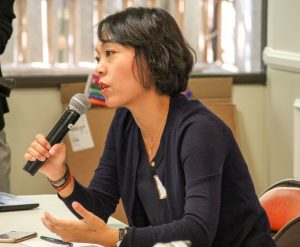 What is a just transition?
The Just Transition Framework, which has its roots in the Labor movement, is focused on helping communities adapt to a changing economy in a way which is environmentally sustainable and community-driven. Ultimately, the end goal is to transition communities away from being dependent on polluting industries and instead help foster clean technology, renewable energy and community innovation. The Just Transition framework is supported by three basic pillars: 
Change the Rules – use government policy to support the transition away from dirty industry

 

Move the Money – Invest in workforce training programs, infrastructure and other programs designed to address unmet needs

 

Build the New – Use local businesses, workers and resources to build and maintain and take ownership of community investments.

 
Already, California's Climate Investment policies are transforming communities. In total, $2.2 billion in Climate Investments have been allocated so far. Implemented Investments will, over time, reduce greenhouse gas emissions by 23 million metric tons, as well as reduce criteria and toxic air pollutants by at least 5,000 tons.  Additionally, Colleen Callahan of the UCLA Luskin Center for Innovation noted during the Convening the first $2.2 billion of climate investments have directly created 20,000 blue- and white-collar jobs. When matching funds from other sources are included, the jobs number increases to 50,000. Considering that 51% of investments (just over $1 billion) had benefits for disadvantaged communities, and 31% of investments ($615 million) were invested directly in those communities, many of these benefits will be felt in our most polluted and vulnerable neighborhoods.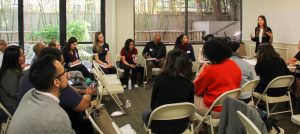 However, just as its important to have the policies and funding to support a Just Transition, the community must own the process. Naturally, people tend to act with distrust and skepticism when a government project or program pops up in a community. This is especially true for communities of color, where trust in the government has collapsed due to the hostile rhetoric and policies coming from the Federal government. For California's Climate Investments to be successful, the community needs to have a significant role in directing and owning these investments. The only way for agencies to understand those needs is to engage with and implement community-based solutions. As Carolina Martinez of the Environmental Health Coalition said during the Convening, "communities have the answer and authentic solutions come from the communities. Community oriented solutions are the solution."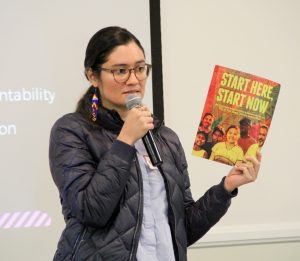 CCEC chose the Just Transition framework as its focus for this Convening because, in many ways, it reflects the next phase of the march for environmental justice. Our policy and regulatory victories in Sacramento need to result in meaningful changes in our communities. As the Convening's keynote speaker, Participatory Budgeting Project Executive Director Shari Davis said "I'm about building engaging & healthy communities as well as a breeding ground for leaders who have brilliant ideas to collaborate with for a brighter future." This approach, one that empowers and improves our most polluted communities, should be the defining spirit of California's Climate Investment programs.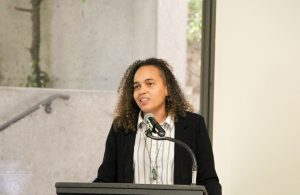 All photos courtesy of Jincy Varughese, SCOPE