(Photo: Li Ang and Bill Magavern)
By Li Ang
I was mildly shocked Thursday morning when I came to the office and found Bill Magavern in sportswear. This gentleman, who is the policy director for Coalition for Clean Air, has been in business suits since we first met in his office more than two weeks ago.
I am visiting CCA as a participant in the Professional Fellows Program sponsored by the U.S. State Department and implemented by the National Committee on U.S.-China Relations.  I am the senior analyst and program head of a think tank based in Beijing named Innovative Green Development Program (iGDP) working on climate-change policy analysis.
In our first conversation, Bill told me there would be a meeting of the California Air Resources Board on the proposed Funding Plan for Clean Transportation Incentives and that I would be testifying before the board representing CCA. Then he passed me the Funding Plan – a document more than 100 pages!
At the time, my understanding about CARB, board meetings and testimony was very abstract. And I have to admit that my personal experience with battling air pollution in California is limited to the air filters I had used in an Airbnb when I traveled in Los Angeles. But, given the fact that I come from Beijing, I know what if feels like to fight the polluted air we live in.
With the CARB meeting just days away, I carefully read the Funding Plan, made notes and raised questions to prepare my testimony. Meanwhile, I was given the opportunity to join discussions about California's Legislature, regulations and the state's business climate. These events offered me a bigger picture to look at the climate change and air pollution issues in California.
My learning curve is rocketing in the past days. Time flies when you're having fun!
Actually, California is not a strange place. In my 12 years working on environmental issues with a special focus on climate change policies, I coordinated an event during the first U.S.-China Climate Smart City Summit in 2015 in Los Angeles, featuring state Senator Kevin de León who spoke about California's actions on clean energy. I have helped CARB colleagues set up dialogue with Zhejiang Province on hydrofluorocarbons mitigation. And iGDP also joined the recent Global Climate Action Summit in San Francisco.
California is a respectable peer when it comes to cooperation with Chinese cities or provinces.
In my testimony before CARB I made two remarks on the Funding Plan.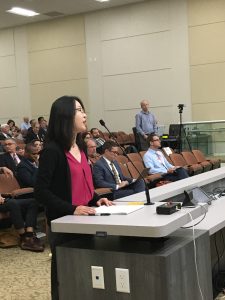 Li Ang testifying before CARB
First, I testified that investing in electric vehicles is a cost-effective measure for cutting greenhouse gas emissions and air pollutions. The U.K., Norway, France and India have announced it is time to stop selling conventional fossil fuel vehicles.
China is drafting a roadmap to phase out fossil-fuel vehicles. Though there is no official announcement from the central government yet, sub-national entities, such as cities, show tremendous efforts to realize it.
Shenzhen, a city in Guangdong Province, announced its GHG must peak by 2022. Meanwhile, it is also pursuing air quality improvements. Transportation accounts for about 30 percent of the GHG emissions and 41 percent of the PM2.5 pollution. Reducing emissions from transportation will achieve the targets for both climate change and air quality and EVs are one of the solutions.
The city had electrified all the public buses by December 2017 and it will begin to replace fossil fuel cabs in 2019. By doing this, nearly all of public transportation will be electrified.
Furthermore, we have seen California is playing an important role in these efforts. A series of MOUs have been signed between California and Shenzhen, creating investments in innovations that will ultimately drive down costs and speed up deployment of clean-air technology. I think China and U.S. share a lot of challenges as well as opportunities, and we highly value the subnational collaborations among Chinese cities and California.
Second, I suggested to the board that it make greater incentive funds available for the heavy-duty vehicles. Diesel vehicles represent a disproportionately large share of California's pollution. We are facing similar challenges in China.
The EV technology applied in heavy-duty requires greater capacity batteries, shorter charging times and more charging stations. All of these lead to higher investment in technological research and infrastructure costs.
I am approaching the end of my visit in California and my time with CCA. The upcoming mid-term election has made my stay even more interesting. I am excited to see the dynamic political changes and what those changes might mean for society in general.
But most of all, I am impressed by the technology innovation and business viability in the low-carbon transportation sector. I had the opportunity to attend the NorCal Clean Technology Expo recently held in Sacramento. There, I witnessed how the business sector is providing diversified zero-emission products to satisfy clients' needs such as prototype heavy-duty vehicles, the multi-functioning off-road vehicles and electric school buses.
Many manufacturers at the expo made presentations and one of them in particular grabbed my attention. He pointed out in his slide presentation that his product had "no major components from China." There could be a lot of interpretations of that statement but I choose to take it from a positive perspective that they are considering China as a strong competitor in the market.
It is good to have strong competition for technological development in both U.S. and China, especially in our race together to green growth and sustainability.