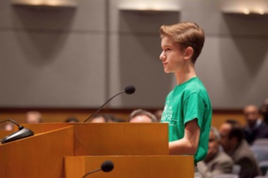 Grades of Green Youth Corps student, Antonio, continues his campaign to have California adopt
"No Idle Zone" legislation for passenger vehicles when they are waiting in the pick up line at schools.
With the support of Grades of Green and Coalition for Clean Air CEO and South Coast Air Quality Management District Board Member Joe K. Lyou, Antonio spoke at the South Coast Air Quality Management District Governing Board Meeting in December. He informed the governing body of his efforts to successfully implement No Idle Zones at his school.
He also asked the Board to help research the science behind idling health and environmental impacts. Interested in helping start a No Idle Zone around your campus? Checkout Grades of Green's No Idle Zone activity and register your school to gain access to 40+ Green Activities.
Grades of Green is a national environmental education nonprofit dedicated to providing parents, students and educators with free, fun and hands-on Green Activities to inspire and empower students to care for the environment. Anyone wanting to implement school sustainability programs can register their school online—at no cost—to get tips and measure their success on reducing trash, emissions, harmful classroom chemicals, plus dozens of other ways to help the environment.