By Rocky Rushing
Proposition 6 on California's November ballot is a politically motivated and opportunistic attempt to repeal provisions of Senate Bill 1 of 2017 to repair California's crumbling transportation infrastructure. Voters should respond with a resounding no.
Yes, SB 1 is imperfect. It contains a "dirty-truck loophole" large enough to drive a smoke-belching 18-wheeler through. On the flip side, it contains generous sums of money for environmentally smart and sorely needed public transportation improvements and safe pedestrian walkways and bike paths.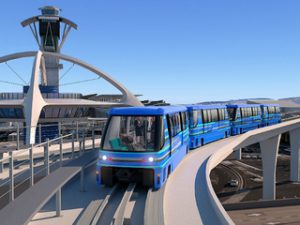 Rendition of Automated People Mover at LAX courtesy of Discover LA
Known as the Road Repair and Accountability Act of 2017, SB 1 was introduced as a means to generate more than $5 billion annually to repair California's deteriorating transportation infrastructure by raising the state gas tax and vehicle fees.
Sensing a voter backlash to the 12 cents per gallon tax increase imposed by SB 1, Republicans successfully recalled an Orange County state Senator who voted for the bill, Democrat Josh Newman. Hoping to drive Republican voters to the polls in November to save endangered Congressional seats, Proposition 6 was placed on the November ballot.
What's at stake?
If approved, Proposition 6 would wipe out $5 billion-plus generated annually by SB 1, including more than $700 million in new funding for public transit projects and programs, and eliminate another $350 million annually available to transportation agencies in competitive funding.
Already, nearly 450 public transit projects throughout the state – from San Diego to Humboldt, Riverside to San Luis Obispo – have received funding and are either completed, underway or scheduled to begin.
At risk are projects such as the Automated People Mover at Los Angeles International Airport, an electric train system expected to move more than 10,000 people each hour through the sprawling airport complex with connections to bus and light rail service. In the San Francisco Bay Area, Caltrain plans to retire its diesel trains and go all electric by 2022, while the Bay Area Rapid Transit plans to expand into Silicon Valley.
Getting people out of their cars and getting them to their destinations in clean, efficient modes of transportation without polluting our lungs and endangering our climate is what these transformative projects are all about.
Expanding our public transit systems is important to meeting California's clean air and climate protection mandates.
Not only would Proposition 6 cast a cloud of uncertainty over the these projects and hundreds more, any future increases to the state gas tax would require ballot-box approval, which could mean a red light for transportation improvement projects for decades to come.
Not eliminated with the passage of Proposition 6, however, would be the "dirty-truck loophole" as it came to be known.
The loophole was amended into the bill during the 11th hour to appease the trucking industry and win over business-friendly Democrats who were squeamish about supporting a gas tax increase.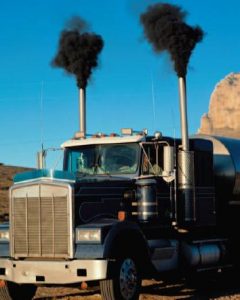 The amendment, which turned off most environmental groups to the bill including Coalition for Clean Air, exempts large, aging diesel trucks from regulations aimed at reducing the health and environmental harms caused by air pollution – especially in low-income neighborhoods.
So, environmentally speaking, SB 1 is definitely a mixed bag. But Proposition 6 is certainly no solution. If passed, our state's credibility as a national leader in transforming our transportation system will be badly undermined and elected officials throughout the nation will be even more reluctant to raise the costs of pollution.
Join a broad coalition of environmental, social justice, public health, business, labor, seniors and other organizations in opposing Proposition 6.