BREAKING NEWS
Today's budget deal out of Sacramento is great news for California breathers, with funding for two major air quality programs: smog checks for heavy-duty trucks and community air protection programs.
We pushed hard to fund these programs, and we want to thank each of you who took action by contacting the Governor and your state legislators.  Today is an enormous victory for our health and air, and your support is invaluable.
Smog Checks for Heavy-Duty Trucks
Last year when SB 210 was signed into law, mandating a smog check program for heavy-duty trucks, we celebrated knowing that Californians would soon breathe easier.  But in his May revise to the annual budget, Governor Newsom proposed stripping funding for the program and delaying implementation by a year.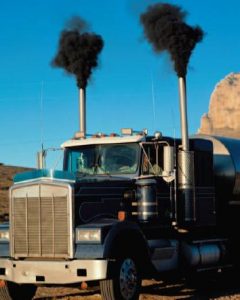 Thankfully, we're done holding our breath: the budget deal just struck by Senate Pro Tem Atkins, Assembly Speaker Rendon and Governor Newsom includes full funding for this critical program.
Heavy-duty truck smog checks will ensure diesel big rigs are in compliance with California's emission standards and remove 93,000 tons of NOx and 1,600 tons of PM 2.5 from our air between 2023 and 2031, equivalent to taking 145,000 and 375,000 trucks of the roads in California respectively.
We want to thank Atkins, Rendon, Budget Subcommittee Chairs Assemblymember Bloom and Senator Wieckowski, and our partners at the American Lung Association for fighting to uphold our commitment to curtailing one of the biggest sources of air pollution in California.
Community Air Protection
Today's budget deal also secures another major win for California's air quality: $50 million in funding for AB 617 community air protection programs in frontline communities. Historically, these communities have simultaneously suffered a disproportionate impact from air pollution and a lack of government will to protect these communities, which are predominately made up of low-income people and people of color.
We're proud to play a role in the AB 617 program in Maywood working with the community to identify specific air pollution issues and create a community-specific, actionable plan to improve Maywood residents' air quality. And we're thrilled to see continued funding for programs like this in today's deal.