It's no surprise that more containers coming into California ports means worse air quality. What is unexpected is that dirtier locomotives are making a comeback, replacing cleaner, newer models in the state. Data from the California Air Resources Board show that this is the case.
The Federal Government ranks engines by 'tiers'. The higher the tier, the cleaner the engine's emissions. For locomotives, a Tier 0 engine applies to engines manufactured between 1973 and 2001. Tier 1 engines were built between 2002 and 2004, tier 2 engines were built in 2005 or later, and so on.
Of all the heavy duty diesel engines in the country, locomotives remain especially elusive to state regulators. Because railroads cross state lines, they engage in interstate commerce, which is generally regulated exclusively by the federal government, unless Congress says otherwise. The Class 1 line-haul railroads in California are Union Pacific (UP), and Burlington Northern Santa Fe (BNSF), who bear responsibility for the vast majority of those emissions.
While other vehicles have been cleaned up in California, locomotives continue to spew a disproportionate amount of dirty diesel exhaust into our air and eventually our lungs.
The Return of Tier 0
Since 2010, locomotive usage in the South Coast Air Basin, measured by megawatt hours (MWh), has increased from 403,855 to 466,499.
The dirtiest locomotives, Tier 0 and Tier 1, have increased their usage over that period. Tier 2 engines represented more than 50% of the MWh in 2010, and in 2017 represented only 26% – replaced by their much dirtier Tier 1 and 0 predecessors.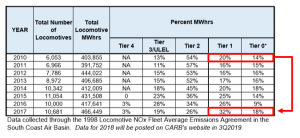 The public expects that when dirty locomotives leave California, they will be gone for good. Unfortunately, these data from CARB highlight that the battle against freight pollution will not be won easily. With growing imports, the railroads are not turning to cleaner alternatives, but rather their older, dirtier models to meet increased demand.
Southern California communities continue to be among the most polluted in the country, emphasizing the need to clean up this fleet of locomotives.
The modest locomotive emissions reductions over the past 20 years stem from a 1998 CARB agreement signed by UP and BNSF that pushed the companies to operate fleets that meet Tier 2 NOx emissions by 2010. ARB and the railroads entered into a second and highly controversial agreement in 2005 that aimed to reduce diesel particulate pollution. Due to the restrictions on state regulation of locomotives, these agreements were voluntary. Now, with a freight crisis in California, there is no clear route to successfully curbing these emissions through regulation.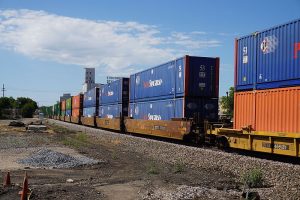 As the federal regulator, the United States Environmental Protection Agency (EPA) is responsible for regulating most locomotives. Critically, the agency has the ability to set emission standards for newly built locomotives, but has not done so since 2008. CARB has already petitioned the EPA to begin a new rulemaking to amend the current standards and clean up the fleet. Stakeholders and advocates have sent letters supporting the petition, including the Bay Area Air Quality Management District, Environmental Health Coalition, the Coalition for Clean Air, the San Pedro Bay Ports, and others.
But there are many efforts in progress. CARB can regulate a small portion of locomotives that have operations only in California, and is currently working on a regulation. The South Coast Air Quality Management District (SCAQMD) is crafting an Indirect Source Review rule for railyards, but progress has been slow, and it's unclear whether substantive emissions reductions will result.
The freight sector is taking steps backward, as many other industries are leaping forward in the quest to protect public health and prevent climate change by limiting diesel exhaust emissions. To address freight pollution, we need the railroads to stop sending California their oldest and dirtiest locomotives. It's time for them to step up and do the right thing.
Take Action
If you'd like to demand cleaner locomotives for California, email or call Mr. Lance M. Fritz, Chairman, President & Chief Executive Officer, Union Pacific Railroad, at lfritz@up.com or (402) 544-5000, and Mr. Carl R. Ice, President and Chief Executive Officer, BNSF Railway Company, at carl.ice@bnsf.com or (817) 352-1400.